Non-Stick Toaster Bags Reusable and Heat Resistant Easy to Clean. Perfect for Sandwiches Pastries Pizza Slices Chicken Nuggets Fish Vegetables Panini & Garlic Toast.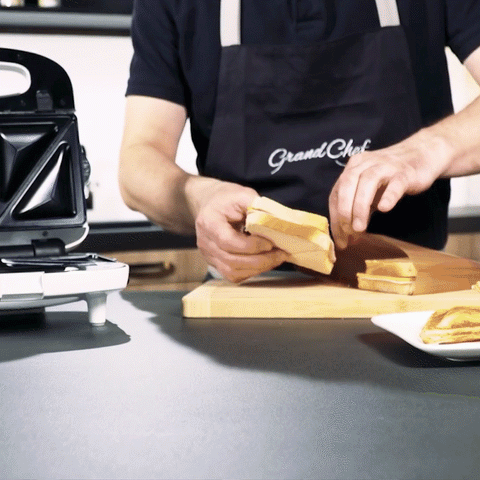 CLEAN AND HEALTHY ?C Using toaster bags significantly reduces time cleaning your kitchen appliances. Prevents food cross-contamination and reduces the chances of allergic reactions. Supports gluten-free diet.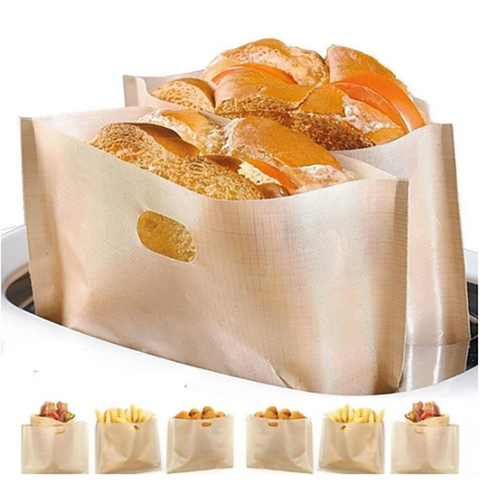 MULTIPURPOSE ?C Bags work great in a toaster. oven. microwave. or on a grill. Allows you to quickly heat up your favorite snack (pizza. grilled cheese sandwiches. chicken nuggets. sausages or vegetables) at home. school or office.
TRAVEL ?C Take your toaster bags with you when you travel. You never know how dirty appliances at hotels can be. Or bring them with you to BBQs to keep your food clean on public grills.
QUICK – make grilled cheese sandwiches with these bags in minutes. 60 seconds to to warm individual slices of garlic bread. warming pizza and for toasting iced cinnamon or raisin bread.
FEATURES: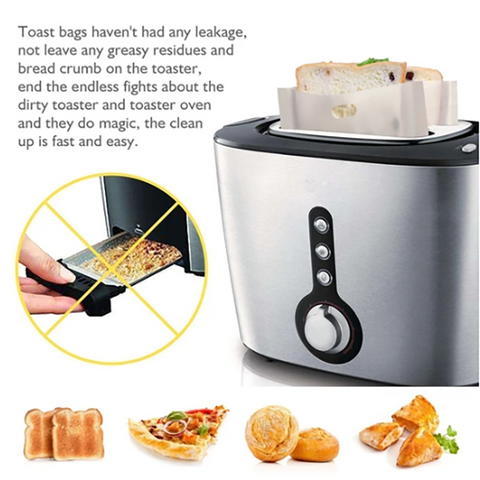 Use the Sandwich Toaster Toast Bags tocook grilled cheese sandwiches quick and efficientlyin your regular toaster. Withno mess and no crumbs. your appliance will remain clean and the sandwich will retain its full flavor. The Toast Bags can be used to reheat pizza. chicken nuggets. fries and more.
The Toast Bags arelarge.non-stick.easy to clean and reusable.
Do not use butter-to promote ahealthy diet. keep food flavorandvitamins
Quick CleanandEfficient– Grab and Go.
Multi purpose -Use in toaster.oven.grillormicrowave.
No mess cooking –Non-Stick–Heat Resistant–Dishwasher Safe.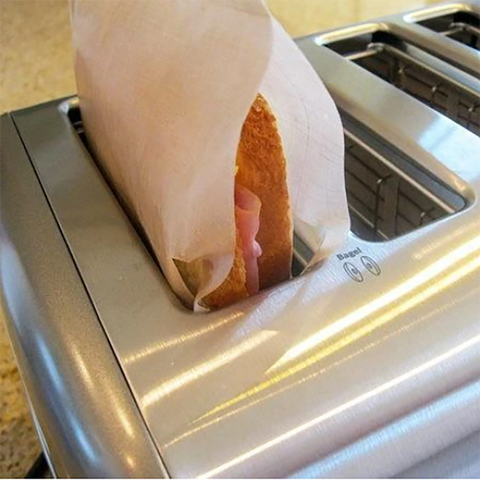 SPECIFICATIONS:
Material: Fiberglass and Food Grade Teflon
Temperatures Resistance:Up to 500 ??F/260??C
PACKAGE INCLUDE:
5PCS x Reusable Toaster bag